Under the corporate slogan of "We maintain a rich global environment by executing our actions", we have established a philosophy for environment and environmental policies and put our activities into practice. The policies are as follow.
Philosophy for Environment
In order to become the top runner in the area of the environment in the automotive industry, we will make the utmost effort to establish a future with rich nature and low carbon by having each of our associate's extending their understanding of global environmental issues and proactively engaging in the continuous preservation of the environment in all areas of our corporate activities.
Basic Policy
Work with preservation of environmental load reduction and biodiversity in all of our business activities involved in the manufacturing of F-tech's suspension auto parts, in order to form a sustainable society.

・Reduce environmental impact throughout the life cycle of the product.

・Reduce vehicle CO2 emissions by achieving lighter weight products in the development area.

・Save resources and energy in all business activities.

・Continue zero emission of waste in all business activities.

・Work on social contribution activities that lead to preservation of biodiversity.

Comply with environmental/energy laws and the other agreed upon requirements.
Strive to continuously improve our environmental/energy management system and prevent pollution.
Establish environmental/energy objectives and targets, and review regularly.
Ensure the availability of information as well as the necessary resources in order to achieve environmental and energy goals.
Develop high environmental consciousness human through energy conservation activities and environmental conservation activities.
Strive to take advantage of introduction of energy efficient products, equipment and service.
Disclose environment information related to business activities appropriately.
Advancement of Energy Management through ISO50001
ISO50001 Certification acquired at Kameyama Plant
Kameyama Plant acquired ISO50001 certification in October 2013 for the first time among the automotive parts manufacturers in Japan. ISO50001 is known and described as an energy management system, and became an international standard in 2011. By establishing and utilizing a ISO50001 system, reduction in greenhouse gas and energy cost can be achieved.
Development of Energy Management through Global F.tech Energy Management Systems
F.tech has improved activities implemented at Kameyama plant and established "Global F.tech Energy Management System" as a common energy management system used among F.tech group companies, which cover all ISO50001 requirements and F.tech's unique knowhow is also incorporated.
Future Activities
Global F.tech Energy Management System will be shared with the entire F.tech Group, and support will be provided to allow it to be deployed uniformly across all production plants in order to achieve reduction in greenhouse gas as well as increase cost competitiveness.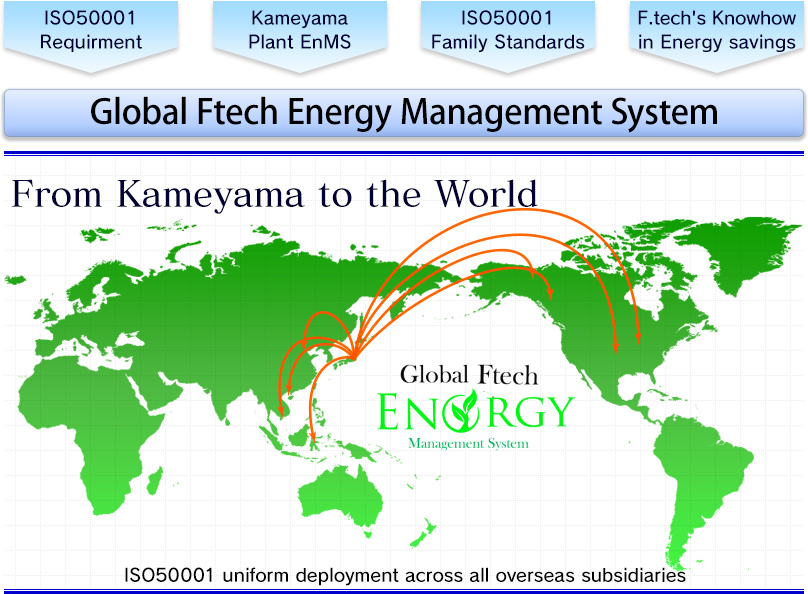 Certification Acquisition Status
ISO14001
| Offices in Japan | Acquired Date |
| --- | --- |
| Head Office and Kuki Plant | November 1999 |
| Haga Technical Center | February 1999 |
| Kameyama Plant | February 1999 |
Valid until November 18, 2017
| Overseas (Subsidiaries) | Acquired Date |
| --- | --- |
| F&P MFG., INC. | May 1999 |
| F&P AMERICA MFG., INC. | June 2000 |
| Dyna-Mig. A division of F&P Mfg., Inc. | May 2001 |
| F.TECH PHILIPPINES MFG., INC. | March 2003 |
| F-Tech Zhongshan Inc. | January 2004 |
| F&P Georgia, Adivision of F&P America Mfg., Inc. | June 2005 |
| F-Tech WUHAN Inc. | December 2007 |
| F-TECH MFG.(THAILAND) LTD. | December 2009 |
ISO150001
| Offices in Japan | Acquired Date |
| --- | --- |
| Kameyama Plant | October 2013 |
Valid until Octber 12, 2017