Message from the President
Aiming to Become the Top Chassis System Manufacturer in the World
Better than Ever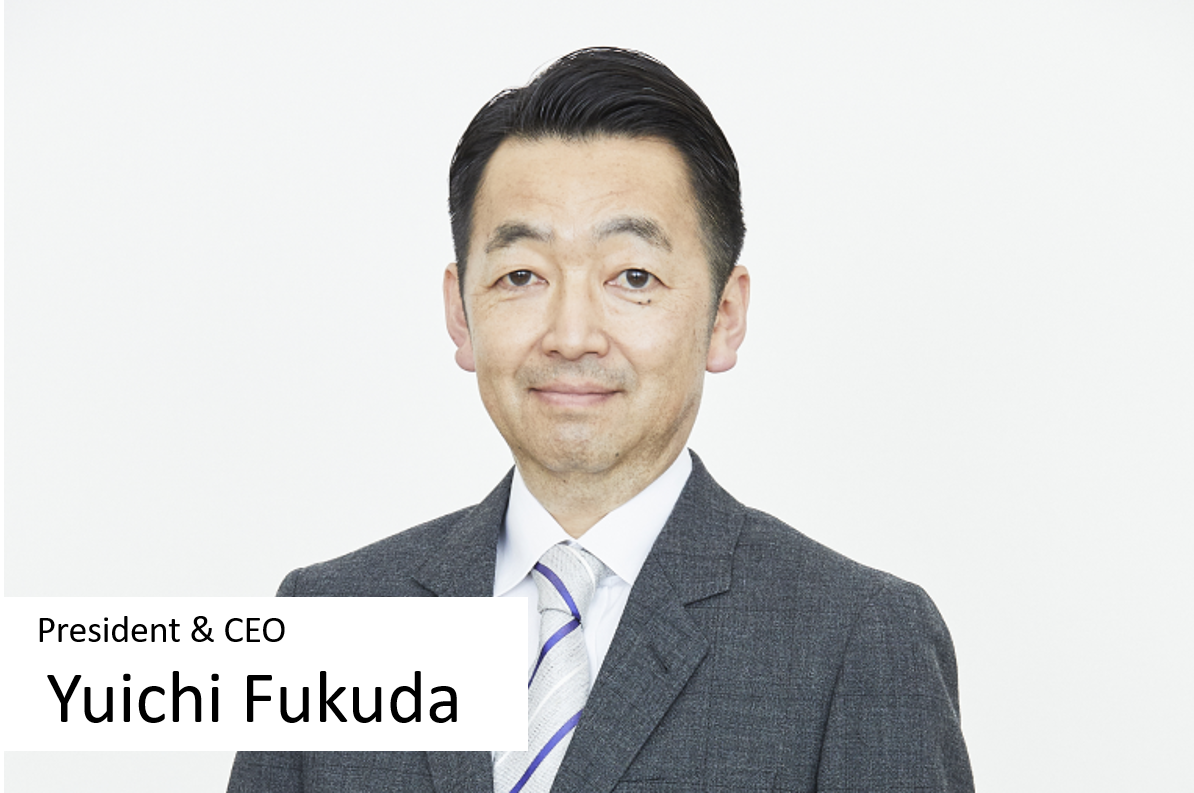 F.tech's history has always been about taking on challenges and driving innovation. For over a half century, F.tech has been adapting to progression and evolution of the automobile to supply high-performance suspension system parts to automobile manufacturers.
In recent years, the automobile industry is said to have entered a period of revolution once in 100 years.
In this revolutionary period, such as fusion with digital technology, progress in autonomous driving technology, and acceleration to EV, we will provide new value to automobile manufacturers all over the world with "Better than Ever" as our corporate slogan.
We will continue to take on the challenge of better future for people and cars, pursue new possibilities, and contribute to the development of a mobility society.
Corporate Philosophy
Mission Statement
From a global perspective, we strive to contribute to our society and to improve the quality of life  through manufacturing of highest quality products with ambition and sincerity.
Management Policies
●Our company shall be based on harmony and sincerity of all employees.
●Our company shall let theories come to terms with practices.
●Our company shall maintain Youthfulness with ever producing new ideas.
●Our company shall produce values with better quality products.
●Our company shall pay respect to harmony with local communities.
Our Principle
Prompt actions
Close communication
Working with a strong sense of responsibility
Candid discussions
Clean and orderly working environment
Our Strengths
The four strengths of F.tech lie in our research and development, production engineering, global competitiveness, and power of associates, which enable us to provide high-quality, low-cost, undercarriage parts that meet the global needs of a rapidly changing automobile industry.
Research and Development
We are deploying a new production method of staying one step ahead of client needs through a unique system of global research and development.
Production Engineering
We have installed state-of-the-art equipment to establish a high-quality, high-efficiency production line. We respond to the diverse needs of clients with flexibility.
Global Competitiveness
We continue to expand our production locations throughout the world in order to establish a supply system on a global scale, so that we can challenge the world-wide market in a substantial speed.
Power of Associates
We are convinced that when the passion for monozukuri (or design and manufacturing) turns to focus also on future goal, we are sure that it brings about the gigantic driving force to move forward the business activities more strongly than any motivated power. We never give up, and always keep striving to reach ever-higher goal. F.tech's challenging spirit, maintained from its establishment which goes "Never give up, and keep challenging the ever-higher goal", is an evolving driving force to step forward in a new business field.
Corporate Overview
| | |
| --- | --- |
| Company Name | F-TECH INC. |
| Head Office | 19, Showanuma, Shobucho, Kuki, Saitama 346-0194 JAPAN |
| Established | July 1, 1947 |
| Captal | ¥6,790 million |
| President&CEO | Yuichi Fukuda |
| Sales | Consolidated ¥ 183,647 million (Result for the business year ending in March 2021) |
| Employees | Consolidated Total 7,606 persons (as of March 31, 2021) |
| Business activities | Develop, design, manufacturing and sales for automotive parts, and related related dies, machinery and equipment |
| Main customer | Honda Motor Co.,Ltd. Nissan Motor Co.,Ltd. Suzuki Motor Corp. General Motors Corp. Isuzu Motors Ltd.  Toyota Motor Corp. Daihatsu Motor Co.,Ltd. Mitsubishi Motor Co.,Ltd. |
Company History
1947
Fukuda Seisakusho established in Soka, Saitama Prefecture, with the manufacturing of metal toys, etc. started
1955
Fukuda Seisakusho Inc. established
1959
Business with Honda Motor Co., Ltd. started
1964
Name of the company changed to Fukuda Press Kogyo Inc.
1967
Kameyama plant established in Kameyama, Mie Prefecture
1978
Head office and plant (current Kuki plant) moved from Soka, Saitama Prefecture to Shobu-machi, Minami Saitama-gun, Saitama Prefecture
1983
Fukuda Engineering Co.,Ltd. ,a subsidiary, established
1986
F&P MFG., INC.a subsidiary, established in Ontario, Canada
1988
Name of the company changed to F.tech inc.
1990
Haga R&D Center established in Haga-machi, Haga-gun, Tochigi Prefecture
1991
Kameyama plant No.2 established in Kameyama, Mie Prefecture
Business with Mitsubishi Motors Corp. started
1993
F&P AMERICA MFG., INC. a subsidiary, established in Ohio, USA
1994
Kyushu F.tech Inc., a subsidiary, established in Yamaga, Kumamoto Prefecture
F.TECH PHILIPPINES, MFG., INC. a subsidiary, established in Laguna, Philippines
1995
Business with Nissan Shatai Co., Ltd. started
1996
Over-the-counter stocks issued at the Japan Securities Dealers Association
1997
Business with Isuzu Motors Ltd. started
Dyna-MIG Mfg. of Stratford Inc. a subsidiary, established in Ontario, Canada
1998
ISO9002:1994 certification obtained
1999
Business with Daihatsu Motor Co., Ltd. started
ISO14001:1996 certification obtained
2000
Business with Nissan Motor Co., Ltd. started
F&P Georgia Mfg., Inc. a subsidiary, established in Georgia, USA
Company stocks listed on the 2nd section of Tokyo Stock Exchange
2001
Business with Suzuki Motor Corp. started
FEG DE QUERETARO S.A. DE C.V. a subsidiary, established in Queretaro State, Mexico
QS9000:1998 certification obtained
2002
F.Tech Zhonshan Inc. a subsidiary, established in Guangdong Province, China
2003
F.Tech North America Inc. a subsidiary, established in Ohio, USA
F.TECH R&D NORTH AMERICA INC.a subsidiary, established in Ohio, USA
2004
F.Tech Wuhan Inc., a subsidiary, established in Hubei, China
2005
ISO14001:2004 certification obtained
2006
F-TECH MFG. (THAILAND) LTD. a subsidiary, established in Ayutthaya, Thailand
The Company's section transferred from the 2nd Section to the 1st Section of Tokyo Stock Exchange
2007
ISO/TS16949:2002 certification obtained
Watanabe Plastics Mfg.Co.,Ltd. become a subsidiary of F.tech Inc.
Reterra Co.,Ltd. becomes a subsidiary of F.tech Inc.
2008
FUTIAN MOULD TECHNOLOGY(YANTAI)CO.,LTD.a subsidiary, established in Shandong, China
F.tech R&D Philippines Inc. a subsidiary, established in Laguna,Philippines
2009
Merger of Fukuda Engineering Co.,Ltd. and Watanabe Plastics Mfg.Co.,Ltd.
2010
F.Tech North America Inc. and F&P Georgia Mfg.,Inc. merged with F&P AMERICA MFG., INC.
Amalgamation of F&P MFG.,INC. and Dyna-Mig Mfg., of Stratford Inc.
Yantai Fuyan Trading Co.,Ltd., a subsidiary, established in Shandong, China
2011
F.tech R&D (Guangzhou) INC. established in Guangdong, China
2012
F&P MFG.DE MEXICO, S.A. DE C.V. a subsidiary, established in Guanajuato, Mexico
Futian Mold Technology (Yantai) Co.,Ltd. and Yantai Fuyan Trading Co.,Ltd. merged, and YANTAI FUYAN MOULD CO.,LTD. established in Shandong, China
Selected as a margin trading stock in the Tokyo Stock Exchange
2013
PT.F.TECH INDONESIA established in Karawang, Indonesia
Michigan/R&D NA Office established in Troy, Michigan, USA
ISO50001 certification obtained in Kameyama Plant
2014
Capital increase to 4.79 billion Japanese Yen
F.tech R&D North America Inc. European Branch established in Dusseldorf, Germany
2017
Capital increase to 6.7 billion 90,370,000 Japanese Yen
Location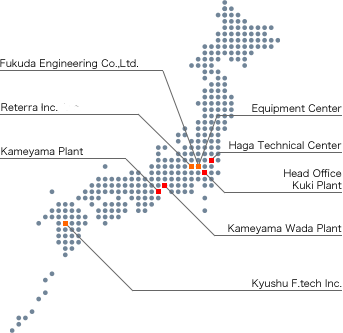 Japan
| Name | Location | Telephone |
| --- | --- | --- |
| Head Office | 19, Showa-numa, Shobu-Cho, Kuki-City, Saitama Prefecture, Japan 346-0194 | 0480-85-5211 |
| Kuki Plant | 19, Showa-numa, Shobu-Cho, Kuki-City, Saitama Prefecture, Japan 346-0194 | 0480-85-5215 |
| Haga Technical Center | 196-2, Haga-dai, Haga-machi, Haga-gun, Tochigi Prefecture, Japan 321-3325 | 028-677-2785 |
| Kameyama Plant | 395-43, Sagiyama, Shiraki-cho, Kameyama-shi, Mie Prefecture, Japan 519-0169 | 0595-83-2111 |
| Kameyama Wada Plant | 1370-2, Wada-cho, Kameyama-shi, Mie Prefecture, Japan 519-0102 | 0595-82-3321 |
| Equipment Center | 5-3, Hanasaki Kazo-shi, Saitama Prefecture, Japan 347-0032 | 0480-65-6280 |
Subsidiaries
| Name | Location | Telephone |
| --- | --- | --- |
| Fukuda Engineering Co.,Ltd. | 3206-3, Koguki, Kazo-City, Saitama Prefecture, Japan 347-0111 | 0480-70-1171 |
| Kyushu F.tech Inc. | 4455, Oaza Kubaru, Yamaga-shi, Kumamoto Prefecture, Japan 861-0522 | 0968-44-5116 |
| Reterra Inc. | 2703, Ryokamisusuki, Ogano-machi, Chichibu-gun, Saitama Prefecture, Japan 368-0201 | 0494-79-1300 |
Overseas Location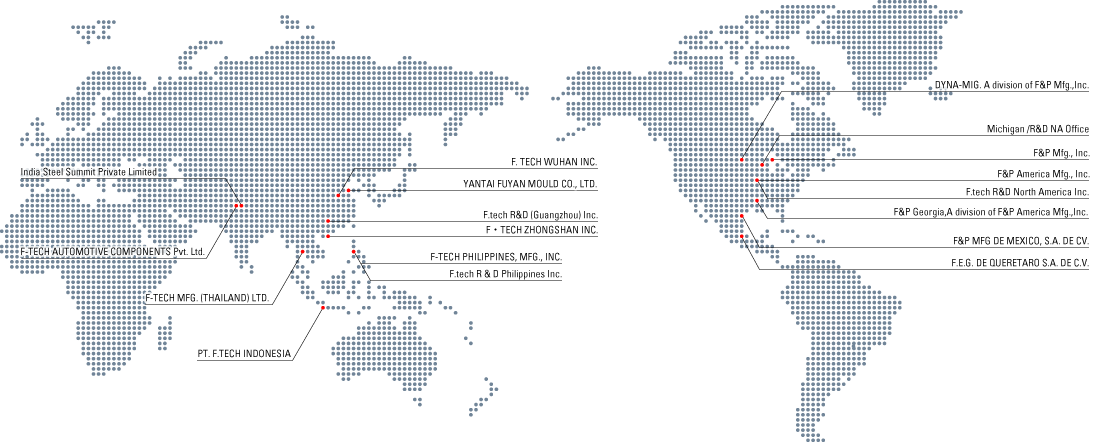 CANADA
AMERICA
| Name | Location | Telephone |
| --- | --- | --- |
| F&P AMERICA Mfg., Inc. | 2101 Corporate Drive, Troy, Ohio, 45373, U.S.A. | 1-937-339-0212 |
| F&P Georgia,A division of F&P America Mfg.,Inc. | 88 Enterprise Drive SE, Rome, Georgia, 30161, U.S.A | 1-706-291-7550 |
| F.TECH R&D NORTH AMERICA INC. | 1191 Horizon West Court Troy, OH 45373, U.S.A. | 1-937-339-2777 |
| Michigan /R&D NA Office | 1050 Wilshire Drive Suite 240 Troy ,Michigan 48084,USA | 1-937-339-2777 |
MEXICO
CHINA
| Name | Location | Telephone |
| --- | --- | --- |
| F-Tech Zhongshan Inc. | NO.16 Torch road,Torch Industrial Development Zone,zhongshan City, Guangdong Province, China | 86-760-8533-5336 |
| F-Tech WUHAN Inc. | NO.19 GEXIN AVENUE,DONGXIHU DISTRICT,WUHAN, HUBEI PROVINCE OF CHINA | 86-27-8306-8806 |
| YANTAI FUYAN MOULD CO.,LTD. | ROOM 501,BUILDING C,133-1 YINGCHUN STREET LAISHAN,YANTAI CHINA | 86-53-5210-2278 |
| F.tech R&D (Guangzhou) Inc. | Room401, 2507 KaichuangAvenue, HuangpuDistrict, 510530, GUANGZHOU, GUANGDONG, China | 86-020-8211-3255 |
PHILIPPINES
THAI
INDONESIA
| Name | Location | Telephone |
| --- | --- | --- |
| PT.F.TECH INDONESIA | Jl.MALIGI Ⅷ LOT R-3,KAWASAN INDUSTRI KIIC DESA MARGAKAYA, KECAMATAN TELUKJAMBE BARAT KARAWANG 41361 JAWA BARAT INDONESIA | 62-21-2925-9980 |
INDIA
Executives
Director & Auditor
Yuichi Fukuda
President & CEO
Hajime Fujitaki
Director & Senior Managing Executive Officer


(

Global Chief SED Officer

)

Hiroyuki Aoki
Director & Senior Managing Executive Officer


(Division Manager,Management Planning Division &

Global Business Management Officer

)

Naoko Tomono
Director
Nobuhiro Koga
Director
Masao Toyoda
Auditor


(Standing statutory auditor)

 Yasuyuki Ikezawa
Auditor


(Standing statutory auditor)

Shigeharu Nakamura
Auditor
Hiroshi Takahashi
Auditor
Operating Officer
Shigeharu Tobita
Managing Officer


(President of F&P AMERICA MFG.,INC.)

Mitsuru Takeuchi
Managing Officer


(Division Manager,Sales & Marketing Division)

Kazuhiko Ogawa
Managing Officer


(Division Manager,Engineering Division)

Masahiro Mori
Managing Officer


(Division Manager,Production Planning Division)

Jiro Yamauchi
Senior Operating Officer


(General Manager,Corporate Planning Office)

Hayato Fukuda
Senior Operating Officer


(General Manager,Quality Assurance Division)

Junichi Midorikawa
Senior Operating Officer


(General Manager,Research & Development Division)

Kazuhisa Nasu
Operating Officer


(President of F-Tech WUHAN Inc.)

Ichiro Mitsui
Operating Officer


(Assistant Division Manager of Sales & Marketing Division)

Seiji Date
Operating Officer


(General Manager of Kameyama Plant)

Toshio Tateno
Operating Officer


(General Manager of Kuki Plant)

Hiroyuki Watanabe
Operating Officer


(President of F&P MFG DE MEXICO S.A. DE C.V. )

Jiro Maesaki
Operating Officer


(President of F-Tech Zhongshan Inc.)