Quality Assurance Initiatives
Based on the management policy of "producing value through good quality," F.tech puts the improvement of customer satisfaction first. We implement the following activities in order to achieve stable delivery of products that meet the customer's requirements, as well as statutory and regulatory requirements, and globally high level quality standards when automobile chassis parts, suspension parts, and pedal assembly are designed, developed, and manufactured. In doing so, we are implementing the following initiatives in order to achieve a globally high level of quality standards.
Quality Policies
We will strive to implement improvement activities based on 3A approaches of "Actual place, Actual part, Actual situation" and minimize quality issues.
We will continuously improve our quality management system in order to strengthen the characteristic on the floor and enhance customer satisfaction.
We will set quality targets in each department in accordance with these quality policies, and review the progress on a regular basis to ensure the quality policies and targets are met.
Quality Assurance System
Based on the quality policies, F.tech strives to improve customer satisfaction by establishing company-wide quality targets considering the customer requirements and mid-term busines plan, and ensuring the quality targets and activities that are set by each plant,  office, and department are achieved.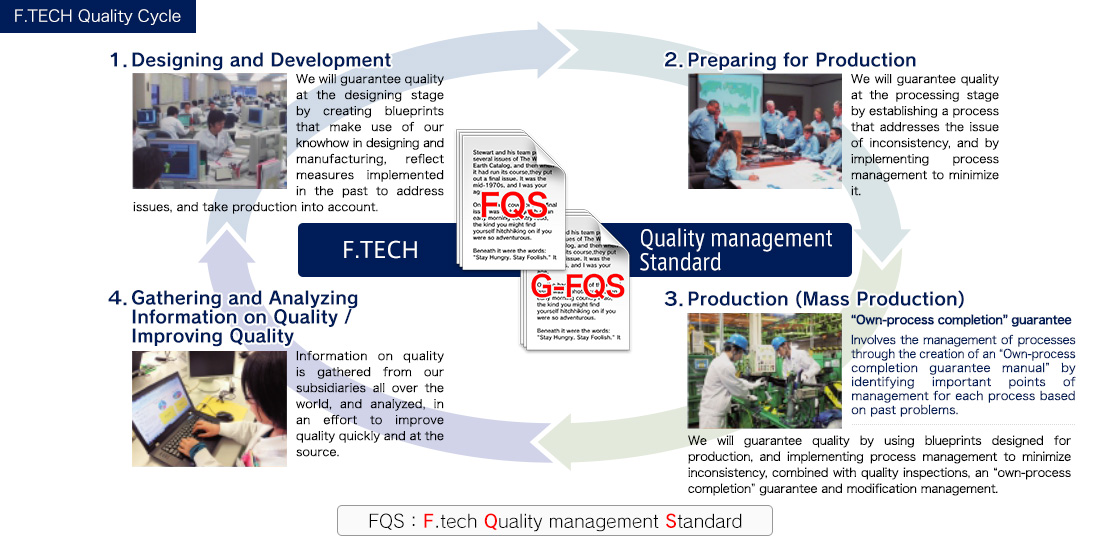 Quality Assurance Equipment
F.tech has established environmental testing facilities equipped with various testing devices to ensure quality control checks.
-Noncontact CMM: Check the discrepancies between the design standard and the part in order to increase the accuracy of the complete part.
-Multi-axial vibration device: Apply specified load and vibration to test strength and durability.
-Integrated corrosion testing device: Performs testing under a variety of temperatures, humidity, and other harsh environmental conditions.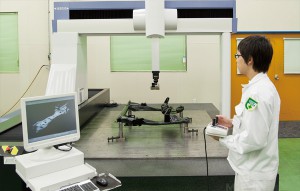 Accuracy Assurance
Product accuracy is confirmed by using noncontact CMM and shape measuring devices.
Information on Acquired Certification
IATF 16949 certification (Japan)
Offices and factories in Japan
Acquired Date
F.tech Inc. Kuki Plant
July 2018
F.tech Inc. Kameyama Plant
F.tech Inc. Haga Technical Center
(Remote Supporting Functions)
ISO/TS 16949 certification (Overseas)
| Overseas Subsidiaries | Acquired Date |
| --- | --- |
| F&P MFG.,INC. | September 2012 |
| F-Tech WUHAN Inc. | March 2009 |
| F-TECH MFG. (THAILAND) LTD. | Feburuary 2009 |
| F.TECH PHILIPPINES MFG.,INC. | Feburuary 2007 |
| F&P AMERICA MFG.,INC. | February 2007 |
| Dyna-Mig, A division of F&P Mfg.,Inc. | January 2007 |
| F.E.G. DE QUERETARO S.A DE C.V | May 2006 |
| F-Tech Zhongshan Inc. | April 2006 |
| F&P Georgia, A division of F&P America Mfg.,Inc. | June 2005 |
| F&P MFG DE MEXICO S.A. DE C.V. | June 2015 |
ISO9001 certification (Japan)
| Subsidiaries in Japan | Acquired Date |
| --- | --- |
| Reterra Co. Ltd. | December 2003 |
| Kyushu F.tech Inc. | November 2002 |